The Process
While newborn photography seems like an art there's actually a lot of thought that goes into things like the order of photos, the wraps, outfits and so on. The order below I have planned with your styling preferences taken into account to maximize variety while minimizing the time it takes to get your shots and keeping your baby comfortable and sleepy or happy and awake throughout your session. If you love knowing what's going on and what to expect during your newborn session I hope you enjoy!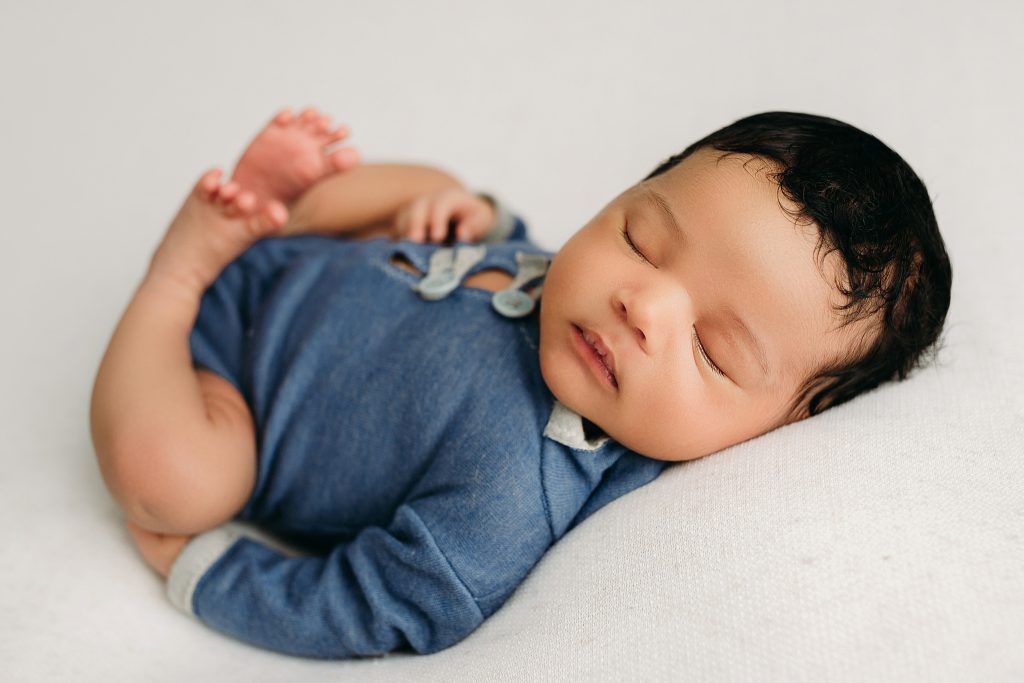 Dads up first!
I always start with daddy's newborn photos! I typically do 2-3 different wrapped poses with dad and then add in mom for a few couple shots.
Mom's turn!
Next I focus on sweet shots of Mamma with her new babe. I often do between 2-3 -wrapped poses with mom before dad hops in again.
Family is up next!
I start with mom and dad so that older siblings have a chance to relax and acclimate to the studio environment. They watch their parents smile and snuggle the new baby, they see the strobe fire and become comfortable with the new situation. At this point I will have dad pickup the older sibling, or have the sibling stand close on a crate. If there are more than one older sibling I have mom and dad kneel so that the siblings can stand close and all be at the same level.
Backlit!
I absolutely love backlit window shots. It has become my most popular photo for new family's. I start with a backlit family photo and then move on to mom dad and baby and then siblings and baby. The backlit shots are a timeless and intimate shots that focus's on the connection between you family and your new baby.
Big brothers and sisters time to shine!
In my styling guide I have parents select their favorite sibling shot and always start with that one. My goal is to provide parents with 3 unique sibling setups. As a mom of 4 I know that shots of my boys together will always be my favorite so it is an aspect of newborn photos I focus heavily on. These setups include backlit on the poser, backlit holding baby, flokati fur, bucket shot, holding their new baby.
Posed family shots
In my styling guide you can select to have your baby in an outfit or naked for the posed family shots. If you've selected an outfit I always put the outfit on BEFORE I even start wrapping so they are ready to go. Babies often hate being changed so I like to make sure the posing process is as quick and seamless as possible. For posed shots I often do bum up, criss cross and head on hands as pictured below. And include a quick shot with their sibling too.
Newborn Poses
At this point there are two ways a session can go. If the baby is sleepy I will jump straight to sweet sleepy posed shots at my table. If they are awake I simple will swaddle them up and move these posed shots to the middle.
Wrapped photos!
After naked shots I swaddle baby up in multiple wraps to get them cozy and warm and also so that as I unwrap them they are ready to go in the next color for the next setup. I love to do as much variety as possible so I typically do a prop and flokati for my first wrap set.
Half Wrapped
The next portion of my newborn session is half wrapped photos. In my styling questionnaire you are free to select which of these styles you like the best. These shots include in a bowl, basket, head on hands in bucket, womb on fur and more!
BABY TOES!
There is nothing sweeter than baby toes! This sweet wrap focuses on their tiny bodies and sweet little toes.
Baby Tower
For the last two shots we move back to fabric backdrops and wrapped poses. Babies love wrapped poses so I often use them to sooth the babies, take feeding breaks or if baby is wide awake. Womb, hammock or tucked in One of my all time favorite newborn poses is womb! This sweet pose curls them up similar to how they fit in the womb and showcases just how little they are. I love finishing with these relaxed poses and sometimes baby will wake up and we can finish with….
Baby Mug Shots!
Babies make so many adorable little facial expressions. As they root around hunting for milk. Their eyes squint as they adjust to being out of the womb, surrounded by light. Their hands flail around as they search for their mouth. These innocent squirmy few minutes at the very end of the session are often the sweetest.
Baby Led Photo Session
wI have lots of tips and tricks up my sleeves to help your baby smoothly and easily go into poses and props. I will do my best to ensure you get a great variety of setups even with a colicky baby. However at the end of the day if your baby is super unhappy with a pose I will move on because not every position is comfortable for every baby. I hope you have enjoyed this sneak peek into my average newborn session workflow! I can't wait to meet you and your little one!